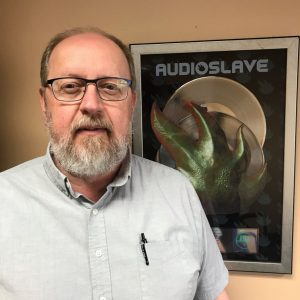 I admit that I'm a radio junkie even though radio isn't known for paying high wages. I tried getting out of radio (twice) but I keep falling off the wagon and picking up the "habit" again.  Being on the radio is work, but it's also a lot of play time! Getting paid to play is good work if you can get it. The worst day at a radio station is still better than the best day at a real job.
I got my first radio job when I was 16.  The local radio station in my hometown in Montana hired high school kids.  At the start of my junior year the station had an opening.  I applied and got the job.  I found out later that they hired me because I was the only person who applied! At the start of my senior year I was promoted to the morning show.
I'm grateful for a fun career that's taken me to suburban San Francisco, Ventura-Santa Barbara, San Diego, Salt Lake City, and then Fresno. Most of my time in radio has been spent as the Program Director. Being a program director is like being the head clown in a circus. Being a Program Director has given me opportunities to do radio consulting work in Modesto California, Anchorage Alaska, Fairbanks Alaska, Bakersfield California, San Luis Obispo California, and Columbia South Carolina.
Fresno became home very quickly after moving here…probably because of the sweet-smelling air. I'm been the Program Director of 12 radio stations in Fresno.  Many of the people you hear on several other stations in Fresno are people that I've worked with, and in some case, gave their first radio job to or hired at one time or another.
I was offered the 105.1 The Blaze Program Director job twice in the past but turned it down for reasons to boring to explain.  The third offer was the charm and I couldn't be happier to be back on the radio and working (goofing off) at 105.1 The Blaze.
I'd love to get to know you. Don't hesitate to send me an email at ejohnson@lotusfresno.com