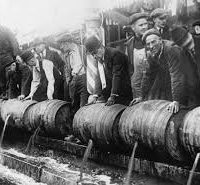 Millions of gallons of beer that's currently stuck in stadiums, concert halls, restaurants and bars are going stale.
And, the timing couldn't have been worse because the coronavirus hit just before two of the country's biggest drinking occasions — St Patrick's Day and March Madness.
So now, beer companies are trying to get their kegs back so they can be refilled before lockdowns lift.
The clock is ticking and time is tight, as beer stays fresh for between two and six months.
But before this is all over, there will probably be a lot of beer dumped and wasted. (Food & Wine)