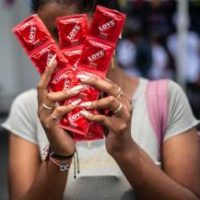 People have joked that in nine months we're about to experience a baby boom. That's much more likely as we quarantine during a worldwide shortage in condoms.
Rubbers are the new toilet paper. There's not enough to go around.
The largest maker of condoms reports the stockpile has plummeted since the New Year by 50 percent. Blame the coronavirus pandemic. Factories in China and India were forced to close due to nation-wide lockdowns.
Karex manufactures Durex condoms and globally one out of every five condoms. Annually they make 5 billion rubbers. Their CEO said, (quote) "Demand is growing at double digits, while governments shut borders and airlines cancel flights. I would definitely say we have never seen such a disruption." (Bloomberg News)