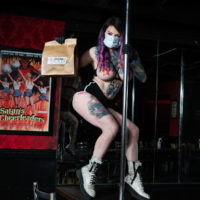 A strip club in Portland, Oregon, was recently forced to close because of the coronavrius, but it doesn't mean its strippers have to be out of work.
Realizing that his dancers stood to lose a lot of money during the shutdown, the owner of the Lucky Devil Lounge put them to work — delivering food. Of course, they're doing it topless, but being safe by wearing masks — and pasties.
For a $30 delivery fee, customers can order burgers, sandwiches, salads and sides — and have it all brought to their homes by two topless women wearing masks and gloves, and staying six feet away. They include a quick little dance and a bounce, and then go on to their next customer.
The club owner is calling the new service, Boober Eats. (Rolling Stone)