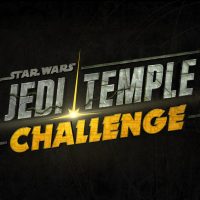 Following the success of The Mandalorian, Disney Plus has another Star Wars show in the works — and this one will have a familiar name.
Stars Wars: Jedi Temple Challenge is an American Ninja Warrior style game show "that will test its contestants' abilities in the core Jedi principles of strength, knowledge, and bravery as they face thrilling and fun obstacles in an attempt to achieve the rank of Jedi Knight," according to Disney's announcement.
Ahmed Best, who voiced Jar Jar Binks, will host the series and act as a Jedi Master mentor to the contestants. He'll also have a droid sidekick, voiced by Mary Holland (Veep).
Stars Wars: Jedi Temple Challenge will hit Disney Plus in 2020.