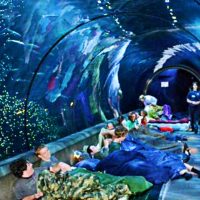 Holy smokes the inner kid in me is freaking out!! who didn't want to spend the night in the aquarium as a kid!?
Pack your sleeping bag and get ready for a blast from the past as you party under the stars and spend the night in an aquarium!
To celebrate its 35th anniversary, the Monterey Bay Aquarium is hosting its first-ever adults-only "Sleepover Party," and it'll be 80's themed.
The event, appropriately named "Sweet Dreams Are Made of Seaweed," will feature 80's dance party music, a build-your-own taco dinner, drink ticket, photo booth, games, insider stories from aquarium staff members, a sundae bar, improv comedy, a late-night movie, and a continental breakfast the next morning.
You get to pick from four sleeping options, each with a different nighttime atmosphere – choose among the Enchanted Kelp Forest, The Ocean's Edge, Jellies, or the Open Sea.
Not quite sure how this will play out, with alcohol, adults, and an overnight in this under the sea atmosphere but I'm interested to see the arrest reports for indecent exposure?!
Click here for more details