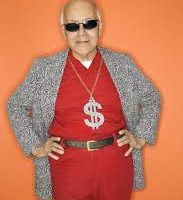 This week, big-time colleges have been in the news because the FBI cracked down on fraud involving rich parents giving thousands of dollars in bribes to get their kids admitted to the schools.
These stories have been fun because they show how the "real world" works. Rich people have certain advantages…
But, all the news has been about getting the kids into these schools.
What about paying for stuff once they're on campus?
School is expensive. Life is expensive. Which is why some young women make arrangements with sugar daddies to make ends meet.
According to some number-crunchers at SeekingArrangement.com, here's a rundown of the colleges with the most students who have used the website to connect with sugar daddies:
Georgia State University
University of Central Florida
University of Alabama
Florida State University
University of Florida
Rutgers University
California State University, Fullerton
University of Nevada, Las Vegas
University of North Texas
University of Missouri
Not sure what it means, but the top five are all in the Southeast — and three out of the top five are in Florida