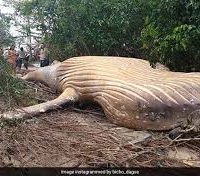 I'm puzzled too! what the hell!?
Biologists were baffled to discover the body of a humpback whale being picked by vultures in the midst of trees and shrubbery in Brazil's Amazon jungle in late February.
The sea creature, which is roughly 26 feet long, was found dead about 50 feet from the shore of Araruna Beach, the Brazilian nonprofit Bicho D'água Institute says.
A team from the region's Municipal Secretariat of Health, Sanitation, and Environment (SEMMA) was alerted to investigate the incident. Marine experts with Bicho D'água believe a powerful tide may have launched the whale inland…. yeah that sounds highly unlikely but we'll go with it.
"Along with this astonishing feat, we are baffled as to what a humpback whale is doing on the north coast of Brazil during February because this is a very unusual occurrence," Emin continued, noting that it's also an odd time of year for humpback whale sightings.
Officials have ventured many guesses as to what contributed to the whale's demise — from succumbing to stress due to separation from its mother to consuming too much plastic… or maybe the fact it was 50 feet from the ocean…. in the jungle.. would be my solid guess.
Read on Here