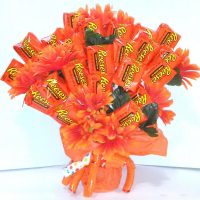 Hey, cheap dudes:  Instead of buying flowers AND chocolate this Valentine's Day, why not buy something that's BOTH?
This year, Walmart.com is selling lots of different CANDY BOUQUETS that you can order right now for Valentine's Day.  And the $45 Reese's Peanut Butter Cup one even comes with some fake orange flowers mixed in.
Some of the other candy bouquets available are . . .
All of them come with at least 36 small packs of the candy.  (Delish)