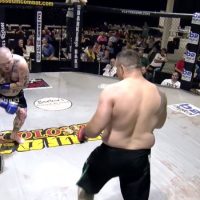 This may have been the strangest mixed martial arts fight in history.  It happened on Saturday at an event called "Colosseum Combat 45" in Kokomo Indiana.
TRAVIS FULTON . . . with a record of 253 and 54 . . . took on JONATHAN IVEY . . . who had a record of 32 and 56.  Ivey took a kick to the upper ribs, then doubled over for a second like it really hurt.
But he was FAKING IT.  He immediately sprang back up and started throwing punches, knocking Fulton to the mat.  Then he got on top of Fulton and started raining blows down upon him.
The ref didn't stop the fight, though, because Fulton seemed to still be trying to fight back.  So Ivey got off Fulton and TAPPED THE MAT, ending the fight, even though he may have been on his way to victory.
It turns out Ivey did it out of RESPECT, because he didn't want to just keep wailing on the guy.  Fulton's been fighting for more than 20 years, and he's one of Ivey's IDOLS.
(One website even said Ivey has a tattoo of Fulton on his leg, but I couldn't find any proof.  FYI, a lot of people are saying Ivey faked a heart attack.  I don't think that's true.  To me, it just looks like he's faking being injured by the kick. Fast forward to 03:56:00 to watch this madness)