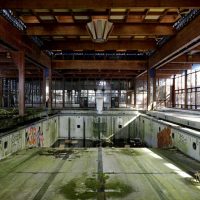 Back in the day Grossinger's was Resort where people flocked to relax in luxury.
Beautiful pools, golf courses, Tennis and Top notch entertainment.
It closed in 1986 due to changes in cheaper airfares and entertainment.
It is creepy to see a place that once was a bustling resort turn into a dilapidated ghost town.