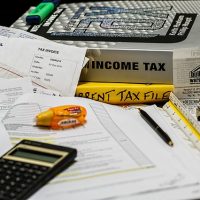 With Tax Day approaching, here are five common tax scams you should be on the lookout for . . .
Phone scams. This is where a scammer calls or texts you pretending to be from the IRS and asks you to send them money or else you'll end up in jail.  The IRS will NEVER call or text you and ask for cash or bank and credit card info.  So, if you're contacted, don't give out ANY information about yourself . . . just hang up.
Email phishing. These include emails trying to get you to click on a link and give up personal information like your name, Social Security number, or bank account numbers.
Fake charities. Watch out for groups asking for money that have names or websites very similar to well-known charities.  To verify whether they're a legit charity, ask for the group's Employer Identification Number and enter it into the IRS website.
Identity theft. Thieves that get a hold of your Social Security number or Individual Taxpayer Identification Number can file a return in your name and claim your refund before you do.
Padding your deductions. Some tax preparers may encourage you to overstate your deductions, like how much you donated to charity, in order to reduce what you owe or get a larger refund.  (CNN Money)