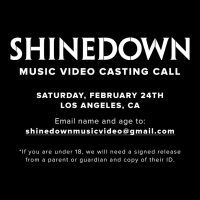 Shinedown has released an open casting for a video shoot this Saturday in Los Angeles for all the aspiring extras out there!
If you feel the rocking acting skills coming out to shine then email the address Shinedownmuscivideo@gmail.com for a chance to get information on the location and time! Just send an email with your age and name and wait to hear from them as any waiting game goes in being an extra….
It is still a secret at this point Where and when on Saturday this will be going on, other than in Downtown Los Angeles but if your down for the road trip its an 8 hour day of fulfilling your dreams of being a bystander in an awesome bands music video! Rock on! Best of luck and kill it fellow acting rockers!