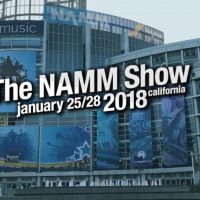 The NAMM show stands for The North American Music Merchants Show, every year over 100,000 people converge on Anaheim for the event.
Anything and everything is here that's connected to music.
Drums, guitars, speakers, pianos, lights, are just a few things that you can find here.
There are thousand of booths with demos going on all the time.
If your curious about an instrument chances are you find out all about it here.
Nikko McBrain's Drumkit form IRON MAIDEN