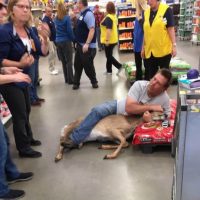 We don't know this guy's name, but he's our "Badass of the Day."
A bunch of people at a Walmart in central Minnesota freaked out on Tuesday when a deer wandered in and started running around the store.  (It happened in Wadena, about 150 miles northwest of Minneapolis.)
Luckily no one was hurt though, because a guy who looks like he's in his early 40's TOOK CHARGE . . . managed to wrestle the deer to the ground . . . and put it in an MMA-style HEADLOCK.
Someone posted a photo on Facebook where they're both lying on a big bag of dog food in the middle of the store.
If you're an MMA fan, he basically put it in a rear naked chokehold, with his legs wrapped around its body so it couldn't get up.
If you're a DEER fan, don't worry.  They let it go outside, and it ran off.