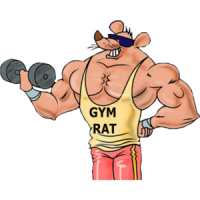 It's always those beefed out "do you even lift brah" type of dudes we think are so full of steroids there isn't any room left for brain cells to conduct proper thought process… Just leave it to this guy to really prove that to be true!
A fitness fanatic got his penis trapped in the hole of a weight and had to go to hospital to get it removed.
Photos emerged online of the weightlifter's purple and swollen manhood stuck in the heavy circular dumbbell. OUCH but what an idiot!
The unnamed gym fan (I would hope to be unnamed with a mortifying injury like that too!) shocked medics when he arrived at a hospital in Worms, Germany, with the unusual fitness injury….UNUSUAL to say the least…
Doctors were forced to call the fire brigade, who reportedly spent hours using specialist equipment to free him.
I'm not even going to ask how this came to be, however I am curious as to how that car ride on the way to the hospital was….  if you want to see the police photo documentation of the event LOL click here